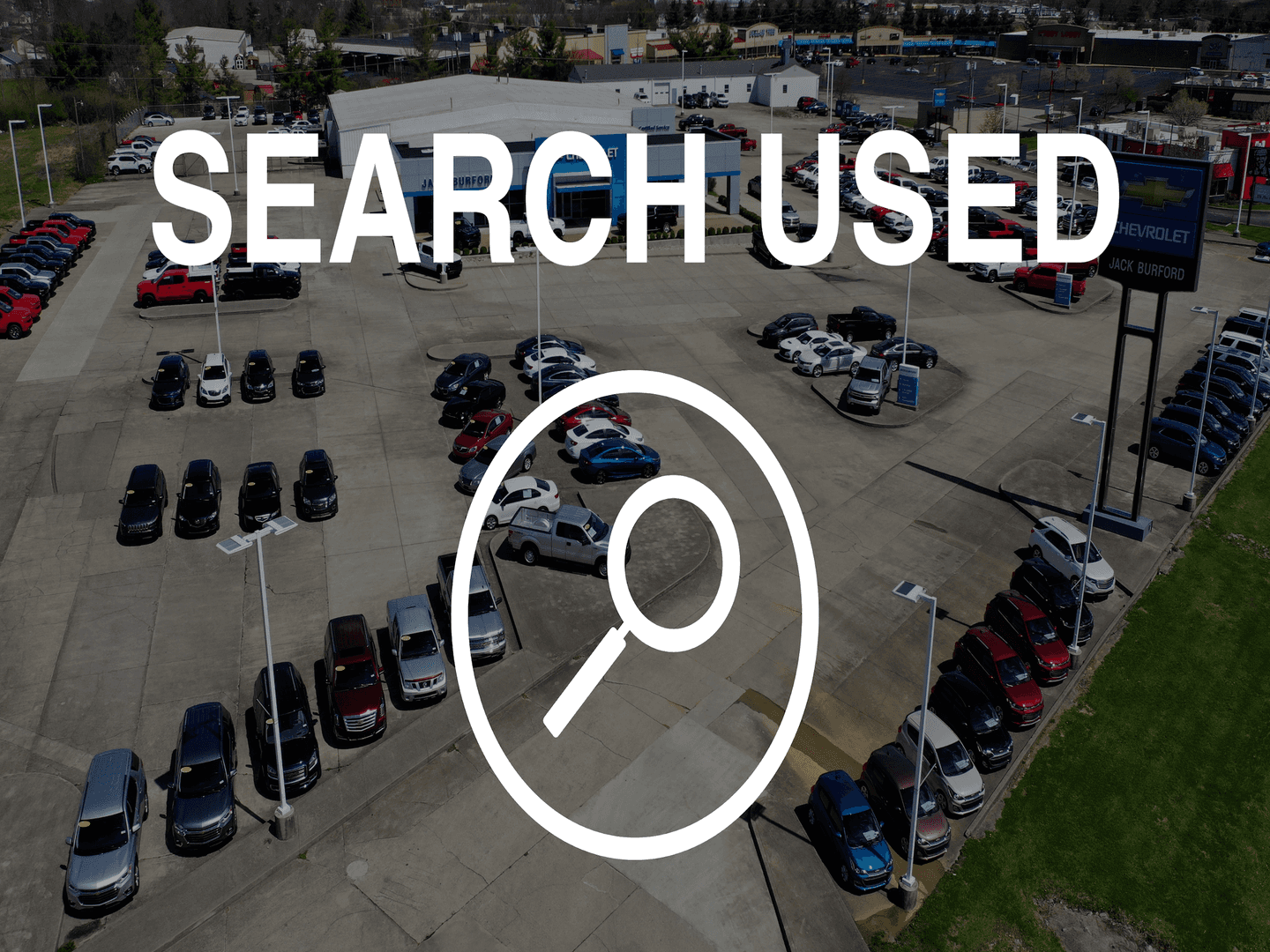 Pre-Owned Vehicles
Search our vast majority of top notch pre-owned vehicles today.
Get Approved
Apply online using our quick credit application to get started.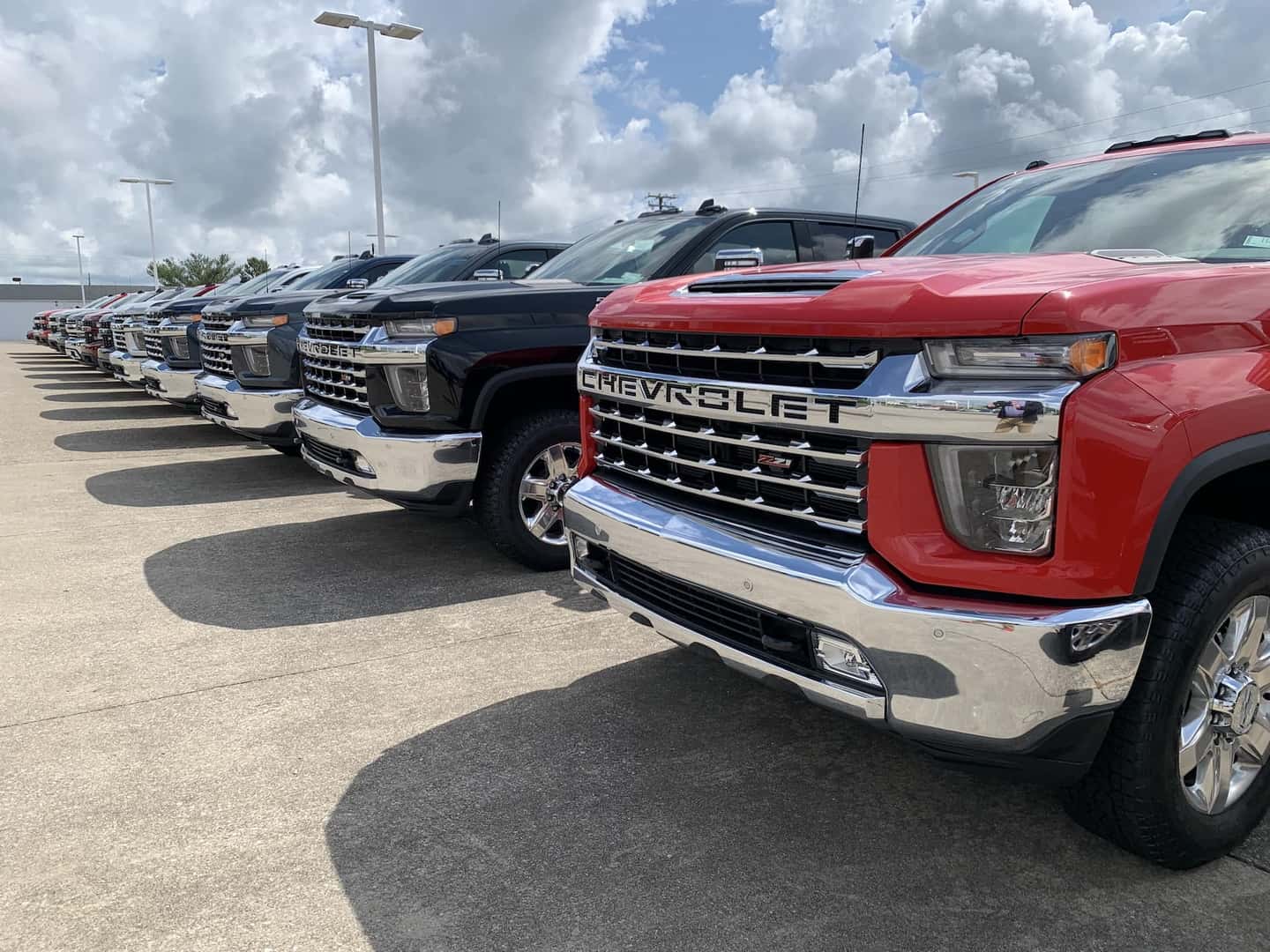 Value Trade-In
Get an online quote from for your pre-owned vehicle.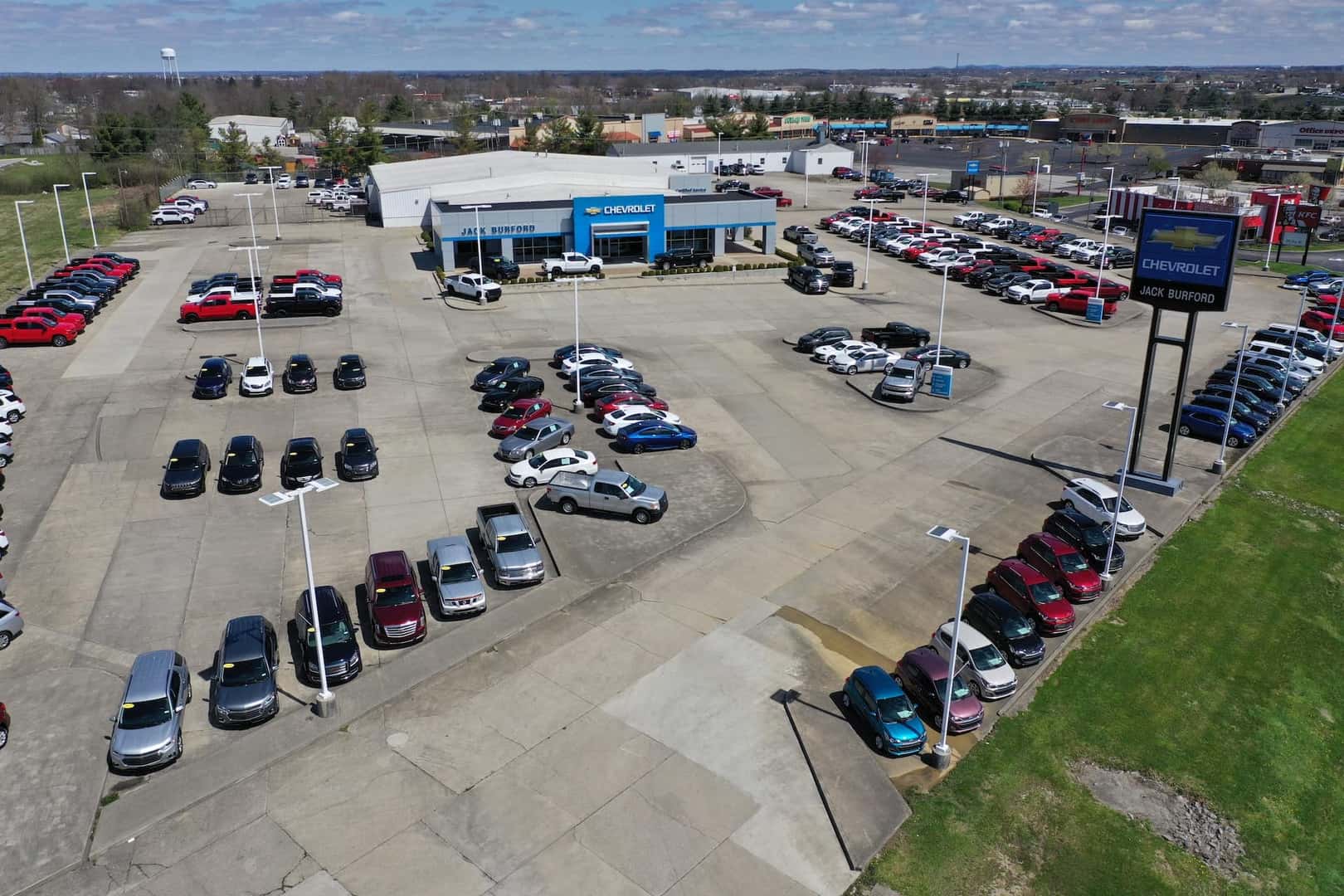 Award-Winning Chevrolet Dealership in Richmond, KY
About Jack Burford Chevrolet in Richmond, KY
Searching for car dealerships in Lexington, KY? Family-owned since 1964, Jack Burford Chevrolet proudly serves in Richmond and near the Lexington and Somerset, KY areas. Our new state-of-the-art facility is full of benefits, including but not limited to:
•A spacious showroom
• Parts and accessories departments that are there for you
• A customer-friendly lounge featuring high definition TV and WiFi access
What sets us apart from other Lexington car dealers? The true Jack Burford difference is our staff. Unlike other Chevy dealers in KY, customer satisfaction is our #1 goal. Our experienced sales team will assist you in finding the right vehicle, new or used, to fit your budget. Plus, when it comes to servicing your vehicle, trust our award-winning service department to provide you with the best quality you deserve. These are just a few of the many reasons why we're one of the top car lots in Lexington, KY.
Our Commitment to You
We are committed to the growth of our community, our employees, and the customers we proudly serve. We invite Lexington customers to stop by our dealership and experience the Jack Burford Chevrolet difference. You'll be glad you did!
Our Selection Surpasses Richmond, KY Car Dealerships
Don't waste time at another Chevrolet dealership in Richmond, KY. Whether searching for a new Chevy like the Equinox compact SUV or Malibu sedan, the Silverado 1500 pickup, or Trax crossover, we have your next Chevy in-stock! In fact, among our new inventory, you'll find a wide selection of quality Chevy models, including but not limited to:
• Chevy Silverado 1500
• Chevy Silverado 2500 HD
• Chevy Blazer
• Chevy Spark
• Chevy Traverse
We're Your Premier Chevy Dealer in Richmond
We are here for you no matter if you require assistance finding the perfect vehicular fit for you or your family, or if you require affordable automotive financing to make buying or leasing your vehicle a reality. We're here for you when your Chevy breaks down and you need a reliable service center. In short, we're here for you in all the ways that count! Compare us to other car dealerships in Richmond, KY and beyond, and you'll see that we do things differently at our Chevrolet dealership in Richmond. That's because our #1 focus isn't us: it's you!
Buy a New or Used Chevrolet Near Richmond, KY Today!
Ready to purchase your next Chevy and obtain a great rate on your next auto loan? Need to service your current car? Whatever you require, don't entrust your needs to other car dealerships in Richmond, KY, instead, trust us here at Jack Burford Chevrolet -- we're among the most trusted names in Chevy dealers near Richmond. Experience what makes us different from other Chevy dealers in KY today.
Ask A Question
Our Reviews
Aaron our salesman was awesome did all he could to make everything smooth and helped us get a car that fit our budget in what we where looking for
Incredible service experience!!! Thank you to Cierra who scheduled my appointment and Jon Wynn my Advisor for taking care of my vehicles needs.
I have bought 3 trucks from this dealership and have been pleased on every deal! Service department has been excellent also! I bought one from another dealer and never felt at home at the dealership.
Awesome. Did a great job of accomplishing what I wanted in a timely manner. First class!
Thank you for the great deal and no hassle deal. I drove from Dayton, OH as they were awesome to deal with and offered a fair trade on my vehicle. Love my new truck. Thanks Devon.
RICKY and the Jack Burford Service department is the best around
Ricky and the rest did a great job of taking care of all of the warranty issues and some routine maintenance. Don't mind bring the truck in for service. They alway make me feel special.
Everybody here was great and treated me and my family with respect. They were not pushy and were willing to work with us.
Made the car buying process very easy using no high pressure sales tacticts. Salesman was very knowledgeable on the car we were interested in. Answered all questions we had..
Purchased this vehicle expecting a just ok experience. I can honestly say the sales team went the extra mile to insure my wife and I had a pleasent experience. No pressure, just good hardworking people. Our sells rep, Wes Cummins worked diligently to accommodate our request. My hats off to this team of experts. Would highly recommend you give them a chance to earn your business.
Oil change was preformed in a timely manner. They are always courteous.
I was not expecting to get the vehicle I did. I had planned to get a Trax because I thought it would be cheaper, especially since I wanted more premium options like a sunroof and leather seats. I also did not expect to even leave with a vehicle that day since the one I wanted was not in stock. However, they told me they could add that stuff into an Equinox they already had in stock. I ended up paying about the same amount I had budgeted for the Trax for the Equinox, including all my extra add-ins. I did not think I would be able to afford the Equinox and still get the things I wanted, but Jack Burford was able to do that for me and I could not be happier.
I've had the truck for about 2 weeks now and it is great. It has a wonderful ride, power and is quiet. The sale price was superb. My friends all agree that it was a very good deal and that's coming from people who own Toyotas, Ford or Dodge vehicles. The layout of vehicles in the lot is organized for individual viewing and is excellent. There is enough space between vehicles so you can look, compare and think about what you want or need in a vehicle instead of looking at a sea of vehicles and being over whelmed. The salesman was patient, not pushy. I told him that I had viewed on line so he went with the flow to ensure customer satisfaction. The other personnel in the dealership were professional in every way. The photographer also played a key role as the pictures on the website were all personalized for that vehicle. It made shopping from home on a computer much easier. I had checked other chevy dealer website in Lexington but got disgusted as they were all just stock photos. The photos posted on your website were instrumental in my decision to make the trip to Richmond and test drive the truck. When I saw the truck I saw on line, there were no surprises. The truck matched the photos and I had examined them extensively at home so it helped move things along. Shopping for a vehicle in Lexington doesn't always give the best deal. Dealers here feel there are enough people that someone will buy if you don't. I feel I always get a better deal from the Richmond dealerships than someone up here. This is my 2nd pickup truck from Jack Burford. Previous truck was a 2007 Z71 I bought used in 2007. I took care of it and it lasted 11 years which is a testimony to GM products. I elected to trade it in due the fabulous deal that came up. When I get into the truck to go to work and you feel the comfort in the ride, the power in the acceleration and all the time it is quiet.... it is my little reward for going to work.
I couldn't have asked for a better buying experience. Daniel gave me the impression that he legitimately wanted to find the best vehicle for my budget and personal needs. He was patient and at no point did I feel pressured. It was the best experience I've had purchasing a new vehicle. I was blown away with how clean the service department was. I can honestly say that I've never seen a cleaner more professionally ran service department. I will continue do my business Jack Burford and will encourage my friends and family to do the same.
I bought a used a Toyota at Jack Burford, from Wesley Cummins. He was very friendly and helpful. He made the buying process easy and he wasn't a pushy car salesman. He wants what's best for his customers.
I have always bought my vehicles at another highly popular Chevy dealer where you just seem to be a number at Burford Chevy I had a great experience with the whole staff made me feel like family I will definitely buy again there !!!! Thanks I'm really satisfied with everything
I purchased my car from JackBurford Chevrolet and used the service department several times. Ricky was the absolute best! The best service department I've ever used.
Very nice people, negotiated and were very understandable. I bought the truck from Cody and he was very low pressure, made for a good expierience. Thanks man @ Cody and the 2 cool trainee guys
One of the best car purchasing experiences I have ever had. Trent and all the personnel that I met while going thru the inquiring and purchasing of the 2015 Cruz were so personable and helpful without being intrusive. I would definitely recommend and encourage anyone to visit and support this dealership.
I test drove multiple vehicles before finding a vehicle that I will be very happy with. Cody was a great sales person letting me decide what I wanted to drive and was helpful without being the pushy stereotype that you hear so much about. They were friendly, listened to my concerns, and I now have a great car that fits my budget. They also valued my time and made sure that I wasn't spending all day there signing paperwork. I highly recommend anyone in the market for a car to make them your first stop.
Jack Burford is the best Chevrolet Dealership in the state of Kentucky; we worked with Wesley Cummins our product specialist on our purchase. He took very good care of me and my wife. He answered all our questions about the 2018 Colorado that we ended up buying. I highly recommend Wesley at Jack Burford Chevrolet where you are treated like family. Drive to Richmond, Kentucky and look for Jack Burford Chevrolet on the by-pass where you will be treated like family and ask for Wesley Cummins�� you won't be disappointed.
They treated us so nice! Everyone was so nice. Our sales person Wesley was great about helping us out and was very curtese even after he had 3 people come in and need his service! He still got us the truck we needed!! And the price! Wow! was great!! We love our used but new 2015 Chevy Silverado!! I would recommend this dealer to anyone! And I don't usually say this about dealers!! I usually have a lot of negative comments for dealers!!
Bought a 2015 Malibu. Stopped by Service to p/u part on our 2003 Monte Carlo. Saw this one sitting on lot and took a look. The salesperson Wesley Cummings was very knowledge and everyone at the dealership was very friendly and helpful. This is the 3rd car we have bought from this dealer since 2000. It has always been the same with all the personnel. We really like this place.
After purchasing a vehicle 9 years ago from this dealership, I had to return when wanting to purchase a new one! The service and expertise was immaculate then, and it remained the same almost a decade later. Bryce Howard and his associates were nothing short of stupendous in the buying process. I am very happy with my decision and proud to be a customer at Jack Burford!
Wes Cummins, is a pretty new salesman and he handled my purchase of a used 2015 Chevy Silverado very professional like. Thank you very much
Visit Our Showroom at Jack Burford Chevrolet,inc.