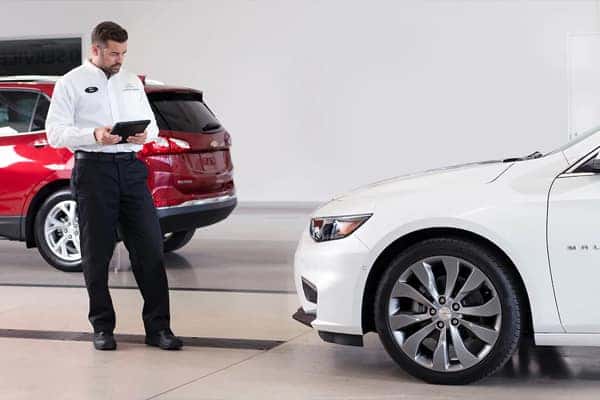 Certified Auto Service
Are you in need of auto service in Richmond, Kentucky? You shouldn't simply drive your car down to the nearest auto garage and have just anyone work on it. Instead, you should bring your car to our dealership so that our factory-trained technicians can use state-of-the-art technology and equipment to ensure your vehicle continues to run like new for the foreseeable future.
You can get the certified service that your vehicle needs when you trust our auto shop in Richmond to take good care of it.
Multi-Point Vehicle Inspection
Your car consists of many different components that need to be maintained over time. You can keep a close eye on them by having us perform multi-point vehicle inspections for you. During these inspections, we'll check out your car from bumper to bumper to see if there are any auto repair services that you may need. It'll help prevent problems with your vehicle when you least expect them.
Dedicated Chevrolet Car Mechanics Near Lexington
Looking for experienced car mechanics near Richmond or Lexington? If you want the very best care for your car, maintenance and repairs should be handled by technicians who know your Chevrolet inside and out. At Jack Burford Chevrolet, our certified service experts have received special training to care for your car repair and maintenance needs! Nobody knows your vehicle better than we do -- so whether you need a new battery or an oil change near Lexington, we're here to help you get back on the road.
Professional Auto Repairs & Genuine Chevy Parts
We are your go-to destination for automotive service and maintenance in and around Richmond. Experiencing brake trouble or searching for a great price on new tires in Lexington, KY? We can get your Chevy ready for the road. When your car isn't tracking straight, or your tires are bald, our team is here to help you drive safely. Whatever your maintenance or service needs, you can rely on Jack Burford Chevrolet and our qualified team of Chevrolet-trained service technicians!
Auto Services at Jack Burford Chevrolet
Our experienced car mechanics at our Lexington dealership can handle all of your car repair and maintenance needs promptly and for a fair price. Services we offer include but are not limited to:
Oil Changes
Tire Rotations
Battery Health Checks
Dash Light Diagnostics
Inspections & Tune-Ups
...And more!
Dashboard Light Diagnostics
There are any number of lights that can appear on your car's dashboard seemingly out of nowhere. From a light that will let you know that you need to add air to your car's tires to the dreaded "check engine" light that will let you know that something isn't quite right under your hood, you should never ignore these lights. They could be trying to tell you something very important. Our auto service in Richmond can figure out why dashboard lights are coming on for you and fix whatever the problem is.
Tuneup
Even if your car appears to be running fine right now, you should still attempt to get a tuneup every so often. During a tuneup, we'll pop open the hood and check out all the various filters to see if they need to be replaced. We'll also inspect your spark plugs, belts, hoses, distributor caps, and more to see if your vehicle could benefit from additional auto repair services in Richmond. The goal will be to keep your vehicle running strong for years to come.
We can also provide plenty of service tips and tricks to help you with your DIY car maintenance projects. Contact us to speak with an expert about your next upgrade!
Trusted for Car Maintenance and Repairs in Greater Richmond
At Jack Burford Chevrolet, we know that you have plenty of options for choosing shops that can provide you with auto repair services in Richmond. You might be tempted to take your car to the nearest auto garage close to your house instead of bringing it to us. But we promise you that you won't regret having our talented technicians work on your car, truck, or SUV. When you do, you'll get to enjoy a long list of amenities, including:
Helpful customer service representatives and service advisors
Chevrolet-trained service technicians
Convenient amenities like shuttle service and loaner cars
A comfortable service lounge complete with Wi-Fi, snacks, and beverages
Affordable services and covered repairs for certified pre-owned vehicles.
Special offers on new tires in Lexington, KY
Special offers on key services like oil changes in the Richmond area
Fair pricing on all services and covered repairs for certified pre-owned vehicles
We're also almost always running auto service and repair specials that you're more than welcome to take full advantage of whenever you'd like. It's just one more reason why you should consider relying on us when you're in need of auto service in Richmond.
Schedule Auto Repair Services in Richmond Today
Your vehicle is one of the most valuable assets that you own. So, you shouldn't trust just anyone to maintain and repair your vehicle. The next time your vehicle needs to be serviced, you should rely on the amazing mechanics at Jack Burford Chevrolet to work on it. Our team of professionals follows stringent quality standards and keeps your car in excellent condition. It's why so many people have come to rely on our auto shop in Richmond for all their car service and repair needs.
Would you like to schedule service for your car, truck, or SUV in our service center? Use our online service scheduler to make an appointment for a time that's convenient for you.
Contact Service
819 Eastern Byp, Richmond, KY 40475